All About Cabinetry
Easy steps to get your cabinetry connected to each other without disturbing the face frame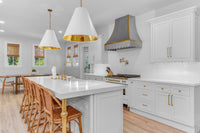 Easy steps to get your cabinetry connected to each other without disturbing the face frame.
So you have paid good money for your cabinets and don't want to end up like this.
       

Screws into side of face frame

 

 

Cabinet Door Opened Exposing Screws
Installation crews often will send their screws through the interior side of the face frame to secure one cabinet to another. This keeps the cabinet face frame from separating and reduces the apparent gap between cabinets.
 For darker cabinets this may not be a problem but with a light color "Inset" cabinet this is not desirable. You do not want to see screws between your face frame and door.
Hard to see until cabinet is opened.
With a little care it is possible to get your cabinets secured together without leaving permanent evidence of carelessness.
It is not desirable to have permanent screws placed into finished painted surfaces. Some installers will connect in this method and place a plastic circle shaped sticker over the screw. Do you want this? Perhaps not. 
How to Secure Your Cabinets Without Damaging Face Frames
Start out with two assembled cabinets. Usually a corner cabinet or sink base cabinet will be your first cabinet to locate. Cut out any holes for plumbing and place into the approximate location where it will reside permanently.
Cutting holes into cabinet for plumbing. Best to use finish hardware around pipes.
Add a flat piece of wood to the front of the face frame to provide a flat surface and protect the finish from getting damaged by clamps.
      

Base cabinets clamped and ready for spacer

    

Inserting 7/16" x 30" spacer
Most cabinets will have a 1/4" overhang at each side. The actual measurement will vary between manufacturers. It is best to place a wood spacer about 7/16" thick and 29-30"s long at the front and back of the cabinet. 
| | |
| --- | --- |
|     Cabinets are clamped together while screws are carefully located to secure cabinets together | Top view of clamped cabinets with spacer in place. |
 This cabinet is now ready to be screwed together. We will be installing the screws to the interior of the cabinet with the aimed towards the face frame on an angle.
       

Securing base cabinets together with interior screws

Securing base cabinets together with interior screws 
 It is best to install screws from inside of each cabinet to the other. 
You are now ready to move to the back of the cabinet to secure the backsides together.
      

Inserting filler at back

 

   

Secure backside from both cabinet sides

  
You can now remove the clamps and move onto the next cabinet. Some cabinets may require a few fillers / spacers and clamps in order to make this work.
     

Attaching a filler with clamps and pre drilling.

 

  Corner installation requiring several clamps and fillers
Fillers are used where there is a smaller than 3" space between the wall and the cabinet. Here a 1' filler is secured to the cabinet through the cut  (wall side) of the filler. 
Be sure to ask your installer what method he uses to hide the securing screws. You may get an answer like "I've been installing cabinets for XX years and no-one has ever had a problem with them".
This may be a fine answer and the installer may do the securing with no evidence of connection screws. You don't want to find out after completion what method he was going to use.
Go after your project knowing how to conquer each obstacle and do so with confidence.