All About Cabinetry
Quality Materials Give Longevity to Your New Kitchen Cabinets and Bathroom Vanity Cabinets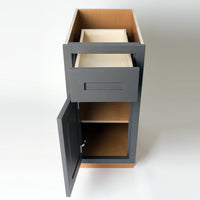 You have heard the saying "Not all kitchen cabinets are made of the same materials". Perhaps not! It is surely better to know the materials before purchasing thousands of dollars of cabinets.
Do you use Particle Board?
The current market has few cabinets made of particle board. This material was heavily used in the late 1070's and early 80's. Only the lowest and cheapest cabinet will have particle board. We do not sell cabinets with particle board.
What thickness plywood should I get with my cabinets?
Plywood thickness may or may not be of concern to you. Thicker is better. The thinnest material used on most cabinets would be 1/2" plywood. There is also 5/8" thick plywood and 3/4" thick plywood.
1/2" Plywood is strong enough for cabinetry and the thickness should not matter over time since the strength of the plywood will not diminish over time. Thinner than 1/2" is not normal at all.
Are the cabinets made with HDF, MDF or solid wood?
Yes our cabinets are made of solid wood and quality materials. Our overlay cabinets are made of Rubber Wood, Maple, Birch or Walnut. Our inset cabinets are made of Birch. Birch plywood for the cabinet sides with solid birch wood for the drawer boxes, face frames (cabinet fronts) and the doors and drawer fronts. 
The materials on inset and overlay cabinets will be very similar. The thickness difference of the materials will make a difference on the longevity of the cabinets.
Do the cabinets have face frames???
Yes, Inset and Overlay cabinets have face frames. We have "Inset" cabinetry which is the hardest and most expensive (standard) cabinet to have produced. Our product line is very competitive.
We also offer the "European" full size door on cabinets. This is a desirable cabinet style for a more smooth front cabinet and Modern style.
What are the European cabinets made with?
European style cabinets are made with flat (slab) cabinet fronts and do not have face frames. The hinges will open in a slightly different fashion to help prevent the side of the door from hitting the next cabinet door or adjacent wall.
The cabinet box is made of plywood. 3/4" is the most common thickness for this cabinet.